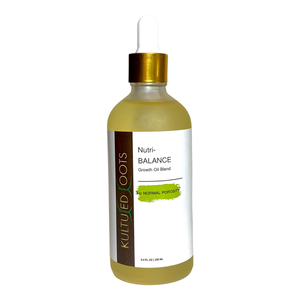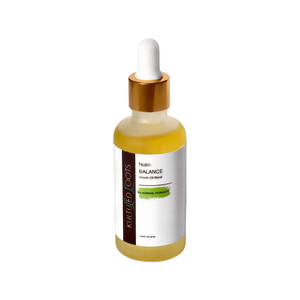 Nutri-BALANCE Growth Oil Blend
PRODUCT DESCRIPTION:
This unique and rich oil blend gives your beautiful hair a boost while strengthening the hair from the scalp to the ends. The nutrients that are included in this oil maintains your hair's balance and health giving it more life!
✓ Great for all hair textures

✓ Promotes thickness, length and health
✓ Improves elasticity and prevents breakage
✓ Calms frizz, tangles and dullness
✓ Can be used with protective styles such as: braids, locs, wigs and natural hair
HOW TO USE:

Apply to scalp once a day or every other day for best results

Use for PRE-POO by applying to scalp and hair, cover with a plastic cap for 30 minutes or longer. 

Take before and after pictures to better track your results.
For those who have a more fine hair texture:
Apply oil to scalp and hair before shampoo for at least 30 minutes (the longer the better). Rinse with shampoo when done. 
KEY INGREDIENTS:
Pumpkin Seed Oil
Flaxseed Oil
Jojoba Oil
Macadamia Oil
Sesame Oil
Castor Oil 
Camellia Sinensis
& a mixture of Essential Oils!
DISCLAIMER: Our products contain herbs, nuts, and essential oils, if you are allergic to any of these, please do not use our products. We are not liable or responsible for illnesses and allergic reactions. Please read instructions and always do a 24 patch test as stated.